Meredith J.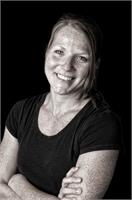 BACKGROUND: Spinning instructor for 2 years and spinning class enthusiasts for Over 4 years. Since high school track and field I had been a runner and thought of myself as only a runner. After years of pounding pavement I started getting repeat injures from running. I learned I was probably getting too much of a good thing with my running, and over-training was the likely cause for my injuries. This is where spinning came into the picture. I was drawn to spinning when I realized I could still get a intense cardio workout with minimal impact on my joints. My love for spinning only grew when I realized it's a highly effective cross-training activity, combined with awesome music and routines to challenge me. Since I've started spinning I've been able to heal from my running injuries and have also seen an improvement in my running and overall fitness. Full time, I work as a Clinical Dietitian so I love being able to combine my knowledge of nutrition with sports and fitness.
WHY YOU WILL LOVE MY CLASS: My class will push you to beat your best and have fun doing it! I'm competitive, but probably one of the most laid back competitors you'll meet. I'm all about getting a good workout but also making sure I have fun doing it! When you come to my class be ready to work hard and bring your sense of humor! My music style is upbeat top 40, with a little bit of alternative, mixed with popular classics. I want my students to feel with every class they're going to be able to move a little closer to their goals and that I'm going to be right there with them climbing toward my goals. Remember any progress is good progress!
Meredith J. instructs the following:
Endurance; The foundation of your fitness. This is not some Sunday stroll, this is meaningful work and the perfect mid-week class to fit in between interval days. With sufficient time in this training zone your body will 'learn' how to metabolize fats as fuel. Your body will build lean vascular tissue that is easily oxygenated and helps you recover quickly. We concentrate on physical as well as muscular endurance. Many Endurance classes are 60+ minutes in length, come prepared with an extra water bottle and some calories to keep you riding strong (gels, blocks, bars, etc..)




Imagine THREE giant 200" projection screens and a 10,000 watt audiophile sound system roaring to life with a Blu-ray High Definition concert of some of the most popular bands around. Now picture riding a perfectly tuned indoor magnetic resistance bike and getting one of the best workout experiences of your life quantified by our own signature Logik Heart Rate Training System. It's the perfect fusion of heart thumping music, goose bumps, and sweat. Come join us for a ride you will never forget.