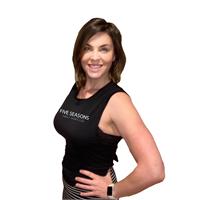 BACKGROUND:
Angel Overbey; yogini, licensed massage therapist, trail runner, CrossFitter, snow bunny & personal trainer. I completed my first 200 HR training program in 2010 at Yoga ah! in Cincinnati. After teaching for almost three years, my desire to learn more for my students, and to deepen my practice, led me to the Bija Yoga School in Cincinnati at the Yoga Bar. In addition to a 200 hour yoga teacher training and a graduate of the SHI School of Medical Massage in Lebanon, Ohio. -I am available to see clients at my Centerville or Cincinnati office.
Why you'll LOVE my classes:
With a focus on the breath and bandhas, my classes are light-hearted and I strive to create a space that is welcoming to everyone. I have a magical way of bringing a smile to your face and filling the room with laughter.